I took Braveheart to the vet yesterday. He needs some serious medical care that I cannot afford. I looked into pet insurance, but it's too late since nothing will cover his pre-existing condition. All last night and this morning I was tormented by the idea of just letting him die. So I'm gonna try to raise money for his liver ultrasound and treatment. Check it out here: http://www.gofundme.com/33hbvk
Here's his story: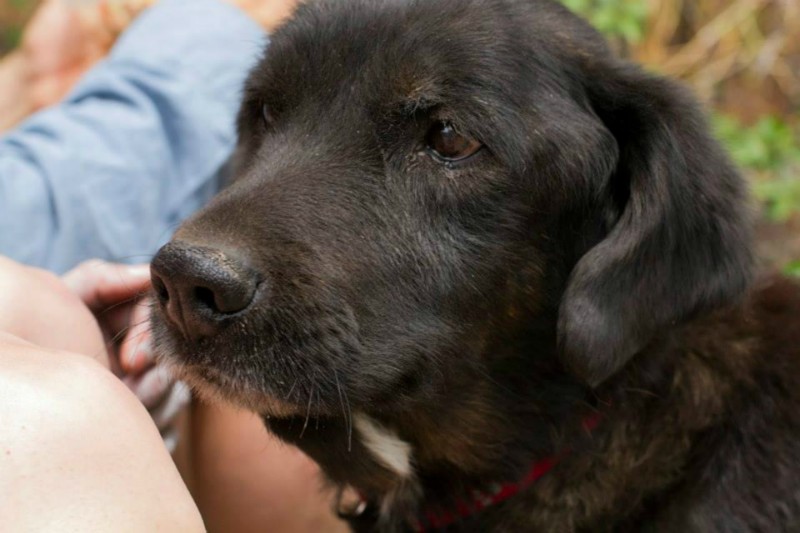 In March, Brave was huddled on some rocks, in Harvey Park pond as we walked by. He was so motionless, I barely noticed him. He was completely unresponsive as I approached and pet him. When I used a belt for a leash, he stood up and tried to climb over the rocks, unsuccessfully. I scooped him up and over. Slowly but surely he followed us home. He was terribly malnourished and skinny with a bald tail. He spent the first 3 days sleeping or gazing sadly around with his big unsure eyes. I posted a found dog on Petfinder and checked lost dog ads. Because of the condition we fund him in, collar-less, worn elbow and knee skin, long cracked nails and starving, he seemed to be abandoned. His cowering response to accidental bumps or loud voices indicate that he was not treated well in his former life.
He quickly started eating and drinking and even gained some weight. He was coming back to life. I distinctly remember the first time he howled joyfully as I arrived home from work. He still does this, howling like a seal and spinning in circles when he's happy. Initially we planned on finding him a home among friends, since our house seemed full with Charlie and 2 cats. But now, he's part of our family. Those who have met him know how sweet and loving he is, with his puppy face and loyal eyes. He's now attached to my heels.
The vet estimates him to be 5 years old. His initial visit to Maxfund Pet Clinic told us his liver was in bad shape. As the liver is an amazing regenerating organ, we hoped that with a quality diet and supplements he would recover. It's 3 months later and while Brave has improved, he is still very sick.
His vet, at Hampden Family Pet Hospital, analyzed his blood work and took x-rays to check for any masses in his abdomen. Nothing worrisome showed up on the x-rays, but his blood work showed severe malfunction in his liver. The vet explained that the next step is a liver ultrasound to rule out cancer of the liver and identify the cause of his liver dysfunction. I have yet to schedule this appointment. I want to give Brave a 2nd chance at life, despite the fact that we can't afford the vet bills. We've already spent over $600 on veterinary bills. The cost of the liver ultrasound is 350$ plus the treatment that would follow.
It pains me to ask for money but it's far better than the alternative. Any little bit will help. If you are willing to donate anything to Brave's second chance at life we would be eternally grateful.